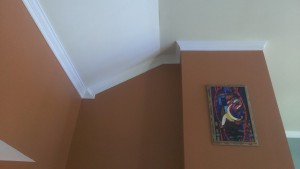 Crown molding can transform a room from drab to fab without much effort, but it has to be the right kind of molding. Crown molds are decorative trim installed where the ceiling meets the walls and can add a dash of style to any home. If you want to change up the look and feel of a room without spending a ton of money on a full-scale remodel, molding could be the solution you need. Before you start installing, however, it's important that you choose the right kind of molding. Use this guide to pick the best molds for your home.
Polystyrene
Made of plastic, this type of molding is the most cost effective. The tradeoff for the low price is that it comes unfinished, so you'll need to paint it either once you have it installed or before installation.
Polyurethane
This type of molding material is durable and fairly inexpensive. It's simple to install, and unlike wood, it's rot and insect resistant, which means that it will last for years.
Wood
Wood crown molding is the most popular type of molding as it's sturdy and it looks nice. Wood can add a classic elegance to your home without trying too hard. However, wood is expensive, which is something to think about prior to scheduling installation.
PVC
If you want to install molding in a room that receives a lot of moisture such as a bathroom or laundry room, PVC might be a good option for you. PVC moldings are moisture resistant; however, like with polystyrene, PVC comes unfinished so you will need to paint it once it's installed.
Plaster
Plaster is the most expensive option but also the most desirable. Plaster comes in intricate designs and can add a unique and regal look to any room. If you really want to impress guests and get the most bang for your buck, plaster is the way to go.
Crown molding can be a fun and easy way to dress up any room in your home. Reach out to your local remodeling company for help with the installation to ensure that it is done right.